The emblem of Alas Peruanas University is a decoration found in a Mochica ceramic vase. The Mochica culture thrived in the Northern coast of Peru, between the 3rd and 7th centuries AD. The vase is exhibited at the Ethnological Museum of Berlin, in Germany. A Chinese ink reproduction of the emblem by W.W.D. Stiner was published in 1954 by Gerdet Utscher. In 1976, renowned Peruvian archaeologist Federico Kauffmann Doig displayed it in his book "El Perú Arqueológico".
The emblem shows an anthropo-ornitomorphous figure that represents a magical religious character—inspired by a white-tailed eagle—with its feet firmly placed on the ground. Its right wing gives it the ability to fly, and it carries a shield, club and spears in its left arm. There are bristled feathers on its neck, and it holds its head high, displaying a warrior-like attitude. This mythical being perfectly represents more than 40 thousand members of the Peruvian Army, Navy and Air Force who are part of Alas Peruanas Cooperative of Special Services, an organization that provides support to the UAP.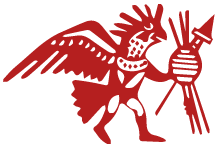 Alas Peruanas University, for science and knowledge a peerless temple, mighty forge of hopes and futures, each lecture as bright as dawn
Embracing the invaluable banner of the wise Javier Pulgar Vidal, following the footprints of everlasting culture, step by step, toward self-realization
Within the halls of these departments, we will adroitly become professionals, and through our virtues, we will build a nation, a beautiful future, in days to come!
Wings of progress, wings of faith, wings of triumph and a thirst for success, Alas Peruanas, the pride of a dignified country, Alas Peruanas, Alas Peruanas, our university.
And we will grow! With its exemplary unparalleled education, and everlasting values learned, we will become leaders, bearing endless success, Alas Peruanas, unmatched, winning and moving firmly onwards, UAP is here, a spearhead for decency and quality.
Lyrics: Fidel Ramirez Prado, Ph. D.
Music: Julio Mancilla